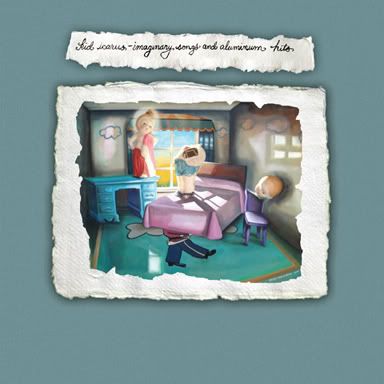 Kid Icarus began as the solo home recording project of Eric Schlittler, and has spent the past fourteen years or so growing and evolving into an electrified psychedelic folk rock quartet. From cutting his first record in a stranger's living room to recording most of his latest opus in a geodesic dome in Central Pennsylvania; from ramshackle, half finished acoustic numbers to epic, multi part space rock suites, Schlittler's growth as a musician and songwriter has consistently kept those in the know anxiously awaiting his next move. There's been a lot of waiting lately—five years since their last full length The Metal West, with nothing but a split 7" and a compilation track in between—we're proud to report that it's been worth every minute of waiting: here is Imaginary Songs & Aluminum Hits, the strongest and most focused Kid Icarus record to date.
The transition from solo bedroom project to full band onslaught has been completed: Schlittler's swirling rhythm guitar, Justin Marchegiani's chiming leads and Ted Baird's melodic, post punk basslines provide the foundation for the majority of tracks here, years of live gigs having fine tuned their chemistry to the point where their amalgamated sound is now a Kid Icarus trademark. But while this is, for the most part, a full band affair, there are still plenty of throwbacks to the bedroom alchemy of earlier days, with Schlittler occasionally going it alone or teaming up with local songwriter Gregory Gover (These Elk Forever) on some of the album's quieter moments.
In any event, this album is sure to please fans of anything that falls into the intersection between indie rock, folk, and psychedelia: think Robyn Hitchcock, early Guided By Voices, Sebadoh, Gary Higgins, Roky Erickson, and such. A solid effort, with enough twists and turns to make for a rewarding listening experience that you'll no doubt return to again and again, finding something new and exciting every time.
The LP is pressed in a limited edition of 250 LPs and includes a free mp3 download. We are accepting pre-orders now and the LP will be officially available on 8/17. Check out free mp3s of "Dig Architecture" and "Projection Loop" from the LP now!